SEED PlusMode 1day Homme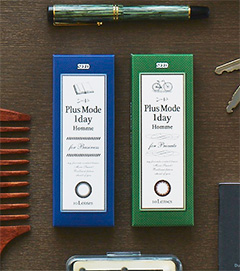 New age, new style for contact lens
Style reaches the realm of the eyes.
SEED PlusMode 1day Homme is a contact lens that contains UV absorbers and accentuates your iris with style. Available in two color designs for different settings. Available in a 10-lens pack to try them out and a 30-lens pack for regular users.
Features
Daily disposable type
A new lens is used every day. Eye disease caused by accumulation of deposits can be minimized and lens care will not occur.
Inner color structure
This series adopts a structure that encapsulates the pigments inside the lens so that it prevents eyes from contacting with the pigment.
This design minimizes impact on the cornea.
Non-ionic lens
Materials used in the lens keep off protein deposits while retaining moisture.
Comfortable wear with ultra-thin lens design
Ultra-thin lens with a center thickness of 0.05mm (with -3.00 D lens).
The peripheral part of the lens features a smooth edge using SEED's original Smooth Edge design for your comfortable wear.
Containing UV Absorber
Ultraviolet rays (UV) causing skin pigmentation such as spots, are said to be one of the causes of eye diseases such as cataracts.
SEED PlusMode 1day Homme contains UV absorbents that can shield your eyes from UV rays.
*Contact lenses with an UV absorber do not block 100% of UV light and are not substitutes for UV absorbing eyewear.
Specifications
FDA Group
Group I (Non-ionic, low water content)
Dk value *1
12
Dk/L value *2
24
Power
±0.00D
-0.25 D to -6.00 D (0.25 D steps)
-6.50 D to -10.00 D (0.50 D steps)
Water content
38%
Center thickness *3
0.05mm
Base curve
8.70mm
Diameter
14.0mm
Package
10 or 30 lenses in one box
Lens color
Black and brown
:×10-11(cm2/sec)・(mLO2/(mL×mmHg))
:×10-9(cm/sec)・(mLO2/(mL×mmHg)) (for -3.00 D)
:-3.00 D lens
Available specifications and packaging varies in different countries. Please check with the corresponding subsidiaries/agencies.
Other Recommended Products