SEED MonthlyFine UV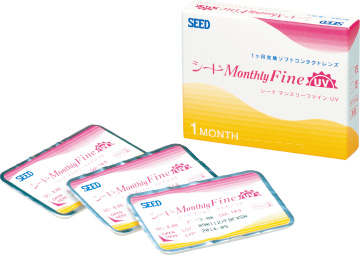 Monthly soft contact lenses with ultraviolet protection
SEED MonthlyFine UV is a monthly contact lens that shields your eyes from harmful ultraviolet rays. Extended comfort lasts throughout the month with proprietary lens design and durable, non-ionic, low water content material that resists dryness and contamination. The one-month replacement cycle not only makes it easy for you to keep track of when to start using new lenses, but also saves you on the yearly costs of contact lenses. Recommended for people using soft contact lenses for the first time and for those who want to save on contact lenses.
Features
Containing UV Absorber
Ultraviolet rays (UV) causing skin pigmentation such as spots, are said to be one of the causes of eye diseases such as cataracts.
SEED MonthlyFine UV contains UV absorbents that can shield your eyes from UV rays.
*Contact lenses with an UV absorber do not block 100% of UV light and are not substitutes for UV absorbing eyewear.
Durable non-ionic lens
Materials used in the lens keep off protein deposits while retaining moisture.
It also features good durability that caters to extended comfort throughout the month.
Comfortable wear with Smooth Edge design
The peripheral part of the lens features a smooth edge using SEED's original Smooth Edge design for your comfortable wear.
Easy to track the replacement time
Replace the pair of lens on the same day of the next month. Monthly replacement cycle makes it easy to keep track of the replacement time to ensure cleanliness. This also saves you on the yearly cost of contact lens, which makes it a recommended choice for users who want to save on contact lenses.
Specifications
FDA Group
Group I (Non-ionic, low water content)
Dk value *1
12
Dk/L value *2
15
Power
-0.25 D to -6.00 D (0.25 D steps)
-6.50 D to -8.00 D (0.50 D steps)
Water content
38%
Center thickness *3
0.08mm
Base curve
8.80mm
Diameter
14.0mm
Package
3 lenses in one box
Lens color
Blue
:×10-11(cm2/sec)・(mLO2/(mL×mmHg))
:×10-9(cm/sec)・(mLO2/(mL×mmHg)) (-3.00 D lens)
:-3.00 D lens
Available specifications and packaging varies in different countries. Please check with the corresponding subsidiaries/agencies.
Other Recommended Products